International conference room
National Cheng Kung University
No. 1, Daxue Rd., East Dist., Tainan City 701, Taiwan
Goodideas Studio
Tutorial Place
Rm. L2A, No. 16, Sec. 2, Beimen Rd., East Dist., Tainan City 701, Taiwan
Transportation
From Taiwan Taoyuan International Airport (TPE)
1. MRT: Airport Terminal Station (A12 or A13) to Taoyuan HSR Station (A18)
2. Taiwan High Speed Rail: Taoyuan to Tainan
3. Train: Shalun Station (4272) to Tainan Sation (4220)
4. Tainan Sation to National Cheng Kung University
From Kaohsiung International Airport (KHH)
1. MRT: Siaogang Station (R3) to Kaohsiung Main Station (R11)
2. Train: Kaohsiung Sation (4400) to Tainan Sation(4220)
3. Tainan Sation to National Cheng Kung University
Nearby parking information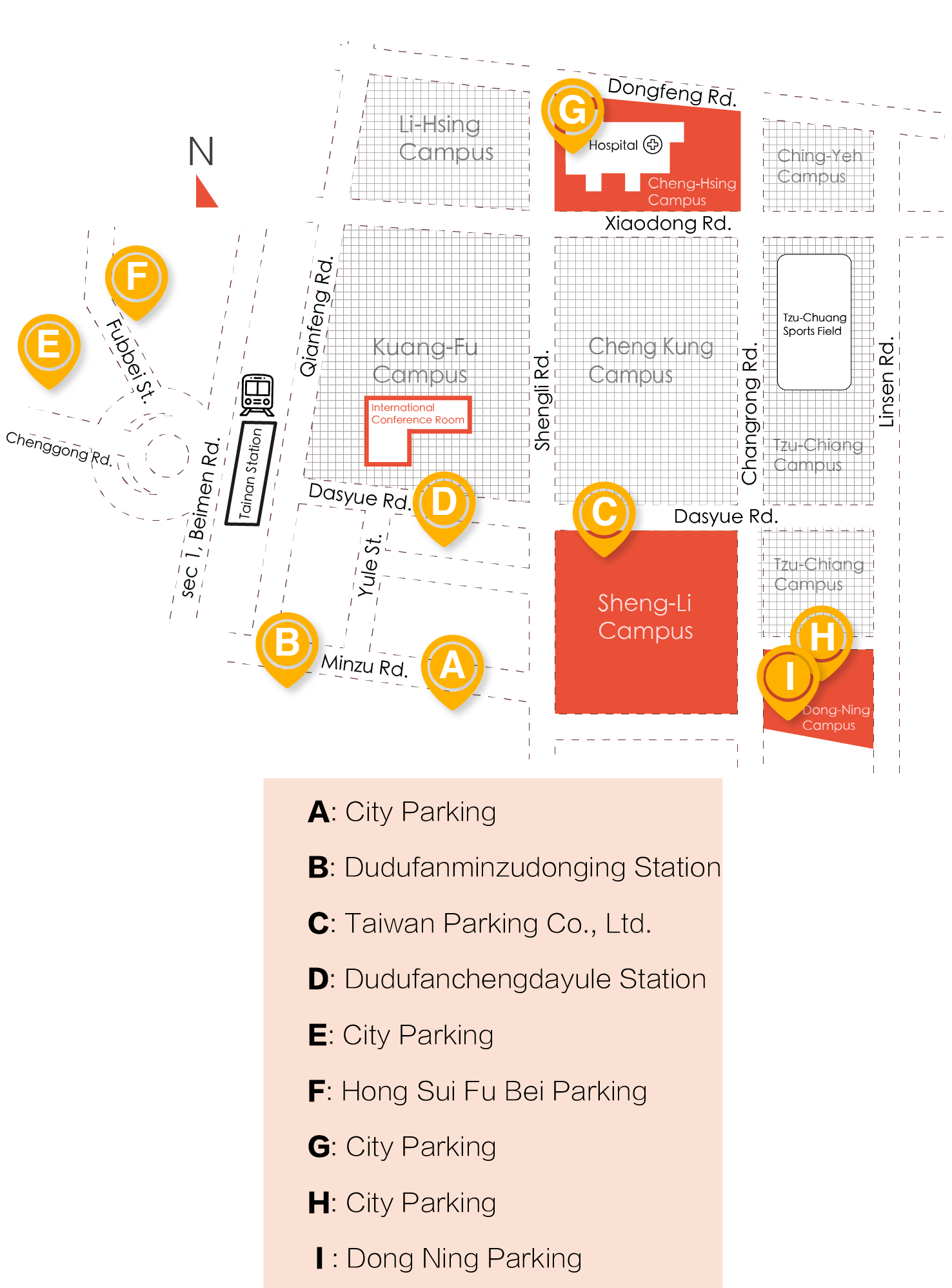 Transportation for Leaving PyCon after Social Community Track
To TRA
1. Leaving from Masa Loft
Walking:From Dasyue Rd to Tainan station in 5 minutes.
2. Leaving from Angry Burger
Walking:From Setcion 2, Linsen Rd via Dasyue Rd to Tainan station in 24 minutes.
Bus:Take bus 77 at Dongming Village and get off at Shangri-La's Far Eastern Plaza Hotel in 49 minutes.
3. Leaving from Tainan Cultural and Creative Park
Walking:From Section 2, Beimen Rd to Tainan station in 4 minutes.
4. Leaving from Tsangfong Coffee
Walking:From Section 1, Beimen Rd to Tainan station in 8 minutes.
5. Leaving from 三道門香見
Walking:From Chenggong Rd to Tainan station in 7 minutes.
To THSRC
Departure at Tainan station (4220), arrive at Shalun station (4272)
Tutorial Place
Goodideas Studio
Rm. L2A, No. 16, Sec. 2, Beimen Rd., East Dist., Tainan City 701, Taiwan
Transportation
From National Cheng Kung University
Please exit by school gat. And then go along Daxue Road to Tainan Station. Exit the station by Front Exit. After exiting Front Exit, turn right and go along Beimen Road. And you can find Goodideas Studio. It takes around 12 minutes to walk.